The Profile 1-8 tank monitor is the big sister to the Solo single tank monitor. It uses the same sensors as the Solo and allows you to install sensors on all of your onboard tanks. Start off with just the panel and your holding tank then add your water tanks once you see how easy it is to do.
The Profile 1-8 also has an additional input for an LPG sensor. Some newer LPG tanks used in the RV industry and soon to come in the marine industry have built in sensors. The Profile panel is ready to hook up to these with a single input wire when you're ready to upgrade your LPG tank.
The Profile Legacy corrects for odd-shaped tanks and sensor types. This panel is also compatible with nearly all sensor types available on the market today making them easy to both retrofit into an existing system or to install new. The Profile Legacy does not come with sensors. Order sensors separately.
Basic Features:
Panel will monitor liquid levels for 1 to 8 tanks
Data is displayed on a 4x20 backlit LCD display
Simple to install, setup and operate
Compatible with capacitve level sensors, 240-33 Ohm float sensors, and 0-90 Ohm LPG sensors
Features our exclusive EZ-Profile software algorithm which corrects for odd tank shape and sensor type
Autonomous monitoring and out-of-bounds alarms
Voltage readout automatically displayed to two decimal places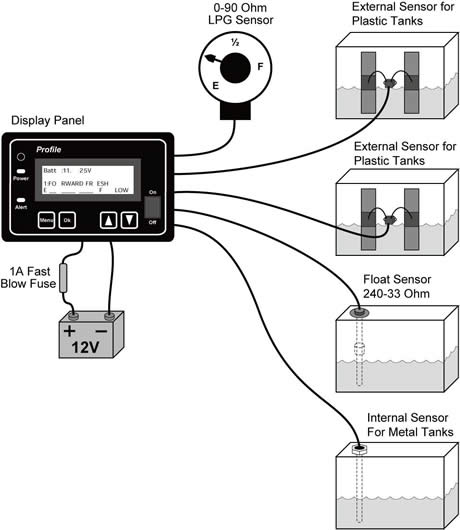 Download PDF Manuals



$19.95


Loads and chambers a bit from its magazine/ handle. You never touch the bit!
$19.95


Charges deeper, faster and without maintenance!
Will not spill or leak!
$279.95


Compact and rugged Designed for many years of operation. Daylight sensor turns Anchor light on/off Made in USA!
On Sale through February. MSRP $371.00, Now $310.00!
$310.00


Keep your batteries plates clean & fresh. Works automatically each time you charge!
$71.00


Jan '09 Practical Sailor's Highest Lumen Output!The Brightest output LED system, pleasing color, broad focus, very low battery draw. Fits into vertical and horizontal fixtures! Zero radio interference!
$34.95


It's programmable! Don't let your batteries go low without warning Shuts off or turns on electrical devices automatically
$79.95


New product with the latest LED technology
$109.95